Bank Of America May Surge Following Quarterly Results
The bar for Bank of America appears to be low going into fourth-quarter results.
Options traders are betting that the stock will rally.
The company's history of delivering better than expected results set up an opportunity for a beat and raise quarter.
Bank of America (BAC) will report results on Wednesday morning, and some traders are betting that the stock will surge by as much as 7% by the middle of September. Perhaps it will be the quarterly results that give the stock the boost it needs to send the shares on their way higher.
The fourth quarter isn't expected to be stellar for BofA. Earnings are estimated to have declined by almost 1.5% to $0.69 per share versus last year. Meanwhile, revenue is forecasted to have dropped by nearly 2.6% to $22.3 billion.
Bar Is Set Low
The bar has been set low for Bank of America going into these results. The company has been able to beat analysts' earnings estimates in each of the last eight quarters.
Meanwhile, the company has been able to meet or exceed revenue estimates in six of the last eight quarters.
With a low bar and the company's history for topping estimates, it likely sets up a good opportunity for the company to do the same this quarter.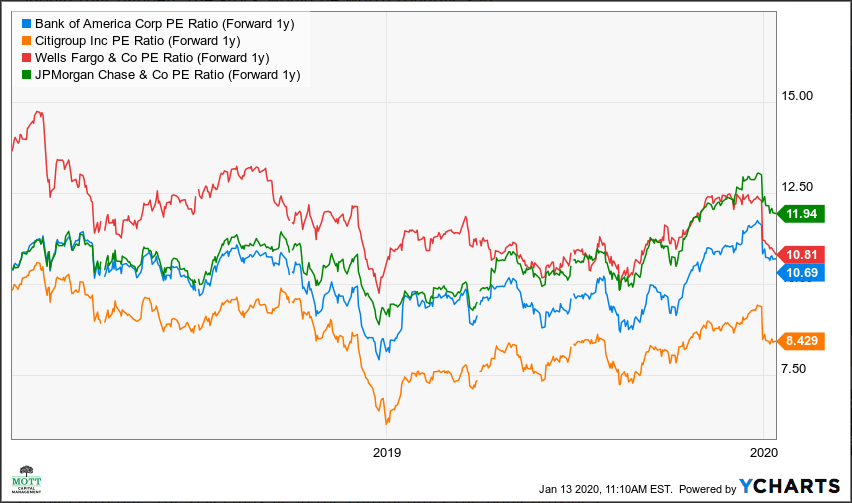 Betting On a Beat and Raise Quarter?
It could be one reason why some traders are betting the stock rises above $37 by September 18. Changes in open interest show a spread trade took place on January 10. According to data from Trade Alert, the September $37 calls saw their open interest levels rise by over 10,000 contracts, bringing the total number of open contracts to around 21,900. Additionally, the $37 puts, saw their open interest increase by approximately 10,000 open contracts, bringing the total number of open contracts to about 12,900.
The data shows that the puts traded on the BID and that the calls traded on the ASK. It means that a trader sold the puts and bought the calls, which created a spread transaction. It is a bet that Bank of America's stock rises above $37 by the expiration date in September.
Valuation Is Compelling
Despite the big run-up in the stock over the past year, the valuation is still compelling, trading at roughly 10.7 times 2021 earnings estimates of $3.25. Which makes the stock cheaper than peers JPMorgan (JPM), and in-line with Wells Fargo (WFC).
It seems unlikely that Bank of America would trade with a multiple on par with JPMorgan. However, it does seem reasonable that good quarterly results could help the stock's earnings multiple increase to its prior high of around 11.7. Should that happen, the stock would be worth roughly $38.
Bank Of America (BAC) Long
Enter at: 35.82
T.P_1: 37
T.P_2: 39.08
S.L: 33.04